From Light of New Orleans Publishing founder Joshua Clark: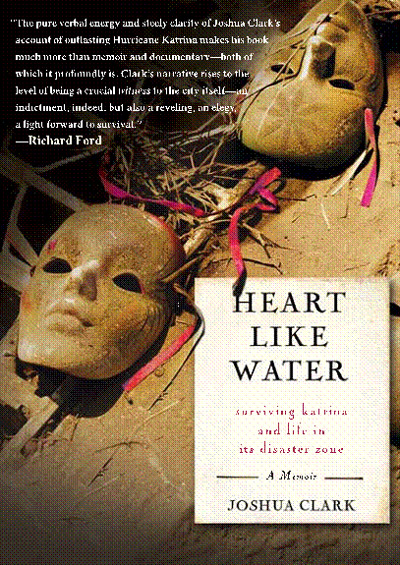 Finalist for the National Book Critics Circle Award
(Published by Simon & Schuster)
"Joshua Clark has written the great non-fiction New Orleans novel. In the growing constellation of Katrina stories, Clark's masterful tale shines brightest. The Apocalypse destroyed a city and ripped to shreds lives, but the legibility of its profound inner impact had to wait for this book, which is a love story. Clark's book is our "Love in a Time of Cholera," but, even more than Marquez' novel, it is immediate and wrenching and true, while its rhythms, like Marquez', are nothing short of majestic."
—Andrei Codrescu
"The pure verbal energy and steely clarity of Joshua Clark's account of out-lasting Hurricane Katrina makes his book much more than memoir and documentary — both of which it profoundly is. Clark's narrative rises to the level of being a crucial witness to the city itself — an indictment, indeed, but also a reveling, an elegy, a light forward to survival."
—Richard Ford, Pulitzer Prize-winner
"For those of us who still mourn and fear we will always mourn for our beloved New Orleans, Joshua Clark's memoir of the terrible Katrina—for which he would not abandon the city—is a tough and beautiful thing. He has an eye and an ear for the crucial details and he is also a really fine writer. You will mourn anew reading this book, but it will help you heal."
—Robert Olen Butler, Pulitzer Prize-winner
"Joshua Clark has written a poignant, evocative book about the city he loves. HEART LIKE WATER has the paradoxical ability to both uplift and haunt."
—Douglas Brinkley
"Heart Like Water is street reporting at its rawest and most revealing. Clark
tells what happened as it happened, the disgusting, painful truth without pontificating from a safe distance. He's a soul survivor if ever there was one."
—Barry Gifford, author of Wild at Heart and Lost Highway
"Mosquito-bitten and heart-scarred, Joshua Clark pedaled and staggered through post-flood New Orleans, ascending the failed levees and descending into the moldy remains of what was washed away: homes, lives, relationships, futures. Heart Like Water is a compelling and frequently breathtaking memoir of discovery, a necessary chronicle of our nation's greatest self-inflicted wound: Katrina."
—Michael Tisserand
"Heart Like Water gives us not only a first-person history of a horrific time, but all the chaos and absurdity of that time. He has produced something that is not only entertaining, but an important document explaining how people adjust and survive."
—John Barry, author of Rising Tide
When Katrina hit, Clark, a key correspondent for National Public Radio during the storm, immediately began to record hundreds of hours of conversations with its victims, not only in the city but throughout the Gulf: the devastated poor and rich alike; rescue workers from around the country; reporters; local characters who could exist nowhere else but New Orleans; politicians; the woman Clark loved, in a relationship ravaged by the storm. Their voices resound throughout this memoir of a unique and little-known moment of anarchy and chaos, of heartbreaking kindness and incomprehensible anguish, of mercy and madness as only America could deliver it.
Paying homage to the emotional power of Joan Didion, the journalistic authority of Norman Mailer, and the gonzo irreverence of Tom Wolfe, Joshua Clark takes us through the experiences of loss and renewal, resilience and hope, in a city unlike any other. With lyrical sympathy, humility, and humor, Heart Like Water marks an astonishing and important national debut.